Flavorful, Fresh and Easy Shoyu Shrimp Tacos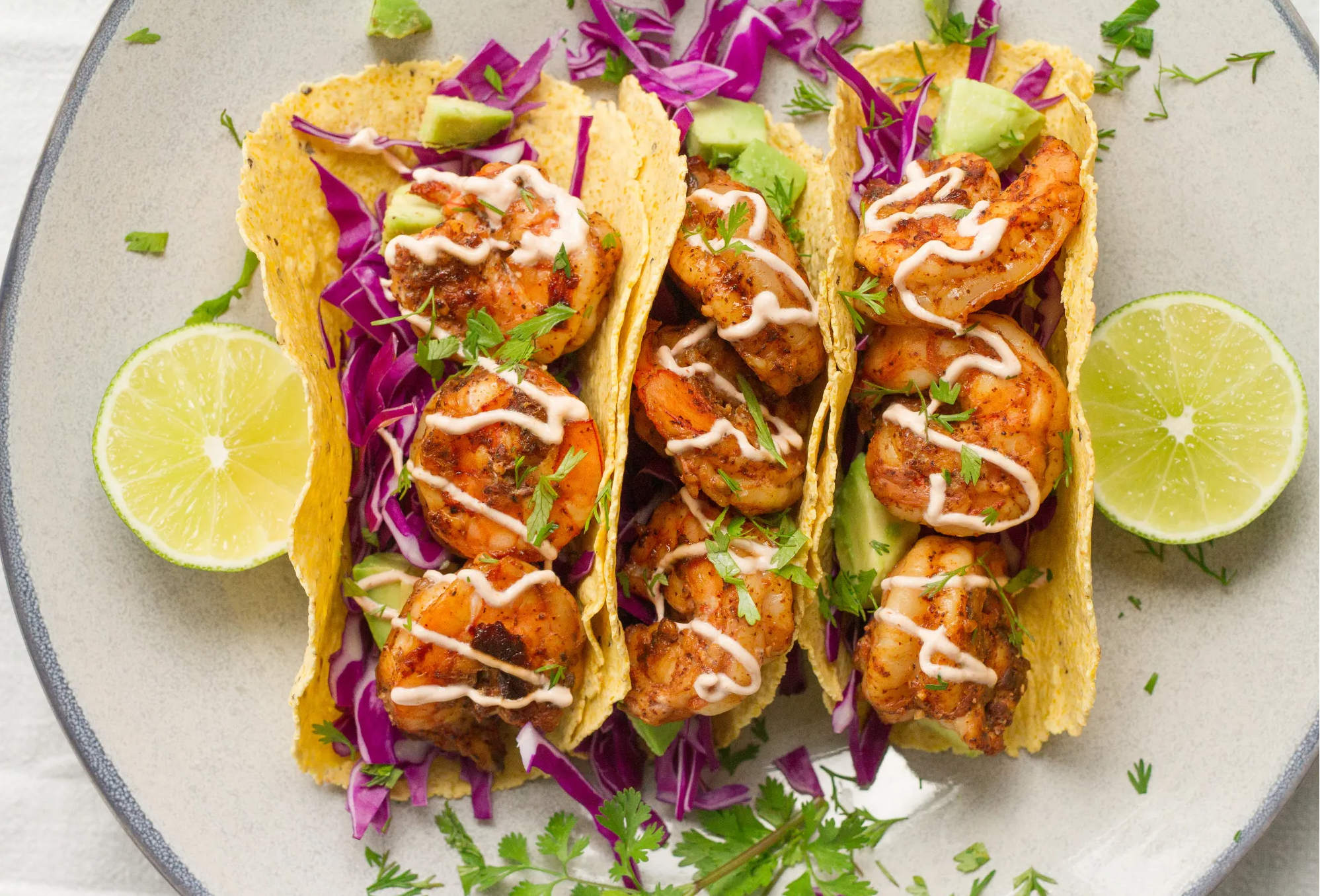 For the Shrimp:
1 lb shrimp (medium or large)
1 garlic clove, pressed or minced
1/4 tsp black pepper
1/4 tsp cayenne pepper
1 Tbsp olive oil
Shrimp Taco Toppings:
8 white corn tortillas, (small, 6" diameter), or Hard Taco Shells
1/2 small purple cabbage, 2 cups shredded
1 large avocado, pitted, peeled and diced
1/2 red onion, diced
4 oz Cotija cheese, (1 cup grated on a box grater)
1/4 bunch cilantro, coarsely chopped
1 lime , cut into 8 wedges
Instructions
Thaw and pat dry shrimp with paper towels and place in a medium bowl. Add seasonings and garlic and stir to combine.
Place a large non-stick pan over medium-high heat. Add 1 Tbsp olive oil and add shrimp in a single layer. Sauté 1-2 minutes per side or just until cooked through. As soon as they are cooked through (white inside with some pink and red accents outside), transfer to a serving platter and set aside to cool.
Toast 8 tortillas over an open gas stovetop flame on medium/low heat (about 10 seconds per side) until lightly charred on the edges (or on a medium-hot skillet or griddle) until golden brown in some spots (30 seconds per side).
Thinly slice cabbage, dice the avocado, finely dice the red onion, and coarsley chop the cilantro. Add these to your serving platter along with lime wedges. Build tacos by arranging toppings and shrimp over each toasted tortilla.
In a small bowl, toss shrimp in Pietro Sesame & Shoyu dressing and serve!